How To Help Your Child Overcome Their Fear Of The Dentist
Posted on
January 29, 2018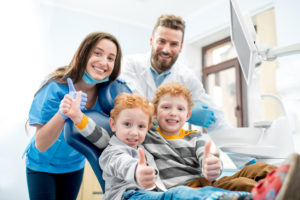 Finding a dentist who makes your children feel at ease can be one of the best decisions you make. Dental health from a young age is a key contributor to maintaining good oral hygiene habits throughout life. Children with poor oral health are actually three times as likely to not go to school because of tooth pain. The problem for many parents is finding a family dentist that will put a smile on their children's face.

There are many myths about the dentist portrayed in popular culture, and while you can't prevent your kids from seeing this, you can do your best to dispel them at an early age.

Desensitizing Dentistry
You want to get your children as acclimated to the dentist, and to oral hygiene, as possible. You should start at a young age by making dental care fun. Brush your teeth at the same time they
do, but do it while balancing books on your head. Or, give them one point for every time they brush their teeth without being asked. Keep track of these points, and when they get 100, they
get to pick a new toy.

The game you decide to play to incentivise proper brushing habits doesn't matter so much, but their enjoyment does. That way when it's time to go to the dentist, they won't feel fear, but pride Instead.

If it's your child's first time at the dentist, a bit of anxiety is absolutely normal. One way to help with this is by scheduling an informal visit. This way they can learn some cool stuff about teeth, and take the pressure off of having their first dental visit.

Cavities
Getting a cavity is all but inevitable. Getting one filled can be a scary process, especially for young children. A dentist for kids will tell you the best ways to explain the process.
If your child wants you to be there to hold their hand, do it. Compliment them on their bravery when they've finished.

Going to a family dentist is great for many reasons, but perhaps most importantly, it makes taking care of your child's teeth into a family activity. If you're all seeing the same dentist, you can work together to break the socially ingrained fear unfairly associated with dentists.