How to Get Your Child Excited to Go to the Dentist In No Time At All
Posted on
August 29, 2017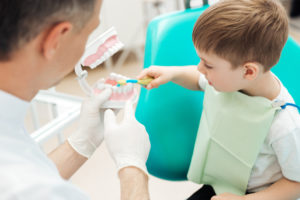 For some children, it is a natural reaction to be apprehensive when going to the dentist. We know how hard it can be when they learn that it is time to have their teeth checked.
But it is incredibly important to invest in your child's oral health from a young age. Although easier said than done, so we have some tips on how to help children overcome their fear of the pediatric dentist's office.
Start with good oral hygiene from day one
The easiest way to get your child acclimated to the pediatric dentist is to get them brushing from a young age. From the time your child's first tooth comes in, they should be brushing twice daily and flossing their teeth every night. Considering that 40% of children have cavities by the time they reach kindergarten, you'll want to ensure their teeth are as clean as can be!
Don't overwhelm them with details
When you're getting ready for your child's first dental appointment, make sure not to overwhelm them with unnecessary information. Simply tell them they are going to go to a dentist who will put them in a big comfy chair and check out their teeth. Don't mention anything about tooth extraction, tooth pain, or give them any impression that they should be scared — if you are calm about the situation, they will be too.
Role play a pretend visit
Get rid of nerves immediately by role playing a pretend visit before you head to the family dentist. Put them in a recliner, have them open wide, and tap their teeth with a pencil. Explain that you are looking for "sugar bugs" on their teeth, and they'll love that this has become a game.
Do not bring them to your own dentist appointment
While some parents attend the same family dental office, it is never a good idea to bring your child to your appointment with you. This is because they won't really know what is happening and can feel nervous without you explaining what is going on. Eliminate unnecessary anxiety and only have them come to the dentist office when it is their turn for an appointment.
Keep these tips in mind and your child will breeze through their dental visit without a problem. Plus, they'll leave with a shiny new toothbrush, and what could be better than that?