Debunking 4 of The Most Common Myths Surrounding Cosmetic Dentistry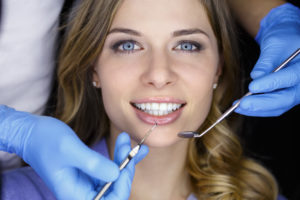 When it comes to cosmetic dentistry procedures, many are deterred from making an appointment simply because they don't know what to expect. But the fact is, more than half of the adult U.S. population surveyed over age 50 agree that a smile is the one physical feature that stays the most attractive as we age, according to a survey by the American Academy of Cosmetic Dentistry. Here are some common myths about cosmetic dentistry.
Myth: Cosmetic dentistry is extremely painful
This is an outrageous myth. Improvements in technology have enabled many cosmetic dentistry procedures to be quicker and more pain-free than ever, especially when performed by an experienced and professional dentist. Many procedures can be done with minimal pain. Don't let fear of pain keep you from achieving the beautiful smile you deserve.
Myth: Cosmetic dentistry is expensive
Again, this is a total misconception. It's true that cosmetic dentistry costs vary and some procedures are more expensive than others, but many procedures are very affordable. Many offices also offer flexible payment options, so you won't have to pay the full amount all at once. If you have a very limited budget, don't worry — there's a dental plan that works for you.
Myth: I can achieve the same results at home using DIY methods
Many would like to believe this is true, but the fact is, only a qualified and experienced cosmetic dentist can give you the best results. You wouldn't try to heal your own broken bones, so you shouldn't try complicated cosmetic procedures relying on DIY methods. More importantly, underlying issues that you are not aware of may need immediate attention before further problems arise, making any cosmetic treatment impossible. These dental issues can only be solved through proper professional care.
Myth: Any dentist can perform cosmetic dentistry
There are many different types of dentists, and they're all capable of performing a variety of different services. While most dentists have experience solving cosmetic needs, it is important to ask your dentist about their ability to achieve what you are asking. In some cases, receiving more than one consultation may be necessary to make that determination.